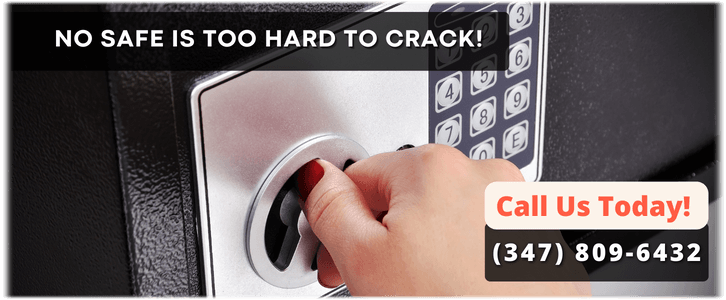 Can't get into your safe? Do you need a safe-cracking expert in New York City? We are just a phone call away if you need our safe unlocking service. Numerous factors could result in a safe lockout, and if it occurs when you need something from it urgently, you will be upset and annoyed. Worry not; we offer our clients a wide range of services, including commercial and professional safe unlocking and repair and 24-hour emergency service. Our team is the most skilled safe-cracking specialist in the entire city of New York. We are your perfect match to meet your high standards. So get in touch with us immediately when you are locked out of your safe!
Professional and Trusted Safe Unlocking Service
We're one of the best companies to contact if you need to open a safe. And we're professional, quick, and efficient at the same time. Our technicians are trained to work with any safes or locks available on the market. We can open any size safe, large or small, but we can also help you if you have a high-tech or specialty safe that needs special care. Be sure that the safe-cracking service you receive is the best in New York City. Call us at (347) 809-6432, and we'll show you why we're the best choice for the job. Choose us the next time you forget your safe combination.
Do You Need Safe Cracking Experts in New York City?
Safes are typically for the protection of expensive valuables. It is essential to understand because safes typically have backup measures to protect their contents. Our team in NYC will provide you with quality service at any time of day or night, whether you need to gain access to an old safe or reset a safe code. One of the reasons people seek the services of a safe-cracking expert is that they have misplaced their safe keys or have forgotten the combination. So, this is not a problem because we work on all types of safes, including vintage and high-tech models. So, if you require our safe-cracking service in New York City, call us immediately!
Non-Stop Safe Lockout Aid!
Forgetting your safe combo doesn't have a schedule. No safe owner will know at what time he can't unlock it. So, you must know who to call in times like this. The good news is Locksmith NYC has a round-the-clock squad to meet your demands. There are many safe cracking providers in the New York City market but the chance to get one gets slimmer as the night goes on. Well, that's what we are here for. We wish to be there for you and open your safes.
Furthermore, our technicians are always on guard to come where you are. Time is vital, so we do not waste it. You can readily call us in the middle of the night, at lunch break, at the earliest of the morning. Our crew will go to you to perform safe cracking in New York City.