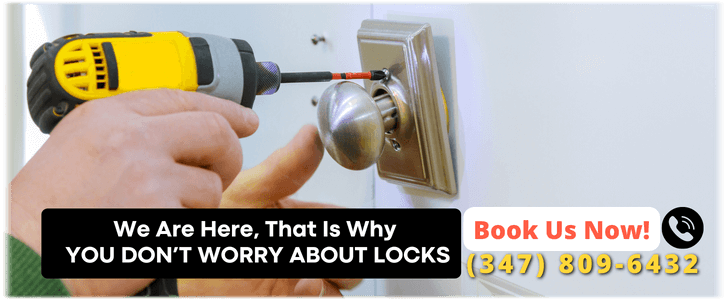 Our team offers reputable lock change assistance to homes and businesses in New York City. Do you need to change your faulty locks? Our highly trained technicians can replace a wide range of locks with varying levels of security. In addition, we offer lock replacement services for all broken or rusted locks. We take your and your family's safety very seriously. As a result, we've been working around the clock for years to provide you with the best lock change service in New York City and the surrounding areas.
Furthermore, there is no need to fret because we always have your backs. We will never leave you alone in the dark with lock issues. The good news is we work with all kinds of residential and commercial locks. So, if you require the services of our lock replacement experts, call us today, and we will be right there!
Quality Lock Replacement in New York City!
Our technicians replace locks throughout New York City using advanced tools and high-quality, long-lasting name-brand locks. Moreover, we provide our customers with highly-skilled, quick, and reasonably cost – 24-hour lock change services, so you can resolve the problem quickly and return to your typical day. You'll have peace of mind knowing that our trustworthy and high-quality professionals will be providing you an honest lock change estimates. Our lock replacement and lock rekey professionals have years of experience. As a result, the pay is no need to be concerned because we have made them low for you. We do not want to add to your lock change troubles. Instead, we work to lessen them. Therefore, when you need to change locks in New York City, give us a call and ask for a reasonable estimate. We are the most economical and fastest you can get in New York City.
Emergency 24-Hour Lock Change Service
Emergencies, such as keys locked inside a car or a broken front door lock, usually happen at the most inconvenient times, such as in the middle of the night or on holidays or weekends. Why waste your time waiting for the next business day to call or the local store to open when you can quickly contact us. Our team is available 24 hours a day, seven days a week, including holidays, to alleviate your concerns. Since the need to have locks changed can occur at any moment. We will surely respond and do the task instantly without bothering you that much. You can count on us to perform correctly and flawlessly. We are your top choice when you need a lock change. So, if you need our lock change service in New York City, Please do not hesitate to contact us at (347) 809-6432!
Why Choose us Among Others in New York City?
There are many reasons that have been evident already. We are fast, we offer high quality, and we do not charge a lot. Yet, the best that we can give you is because we are sincere in meeting every lock change demand in New York City.