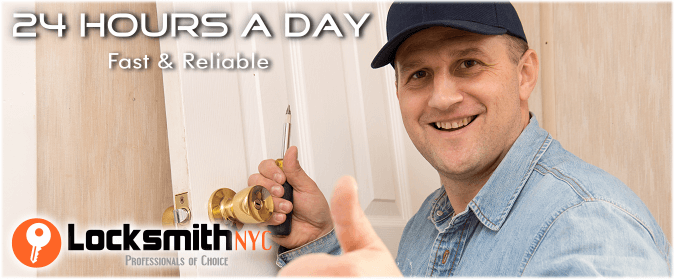 Welcome to Locksmith NYC, the most dependable 24-hour locksmith business in New York City and the surrounding areas! We've been serving residents and business owners for the last seven years, helping people to get their day back on track at reasonable locksmith prices that fit any pocket! In addition, we respond pretty quickly to the vehicle and house lockout situations. So when you are in a jam, our NYC Locksmiths are your finest and only choice.
New York City's Trusted Locksmiths
Though there are more than a few NYC locksmith service providers, none have the experience to secure your location properly as we do! On some things, you cannot compromise. The security of your loved ones MUST be handled by a qualified locksmith who's been rekeying and replacing door locks in the New York City area for over a decade. Well, the search ends here! There's no doubt that the 24-hour Locksmith NYC is the company to rely on!
Faster Response, Better Service!
About 80% of the incoming calls are regarding a locksmith emergency. So to fulfill our client's wishes, the Locksmith NYC team needs to be on its tows and be fully prepared. That is why every one of our rapid locksmiths is set to patrol a certain area of New York City, waiting for calls in the neighborhoods near him. So don't worry about the time frame. Usually, it takes your favorite 24-hour locksmith about 20 minutes to get to your exact spot!
Commercial Locksmith NYC
Need to get your business locks changed? Want to rekey locks on an entire building? Locksmith NYC can make it happen cleanly and effectively without interrupting your normal work day! While other commercial locksmiths in NYC will charge you $40-$55 just for a visit, we keep the service call fee to a $19 minimum! We also offer special locksmith discounts to office and store owners all over the southern side of the greatest state of New York!
Locksmith NYC is Open 24 Hours, Always Ready to Go!
Unlike the average NYC locksmith store, we work around the clock, including nights, weekends, and public holidays. Lucky for you, the trustworthy locksmiths we hired lived in New York City for most of their lives. Hence, they know the streets like no other. So when it comes to urgent 24-hour locksmith issues, we will always be the first ones arriving at the scene! Contact the best Locksmith NYC offers at a time that fits your schedule. (347) 809-6432.